This section is where you will find details of all the 'extras' that I have provided over the last five years or so. This includes some examples of what I have achieved in my time working at The Mind Lab.
My Time At 'The Mind Lab'
This is an account of some of the learning activities and opportunities that I experienced as an EdTech Educator at The Mind Lab.
I started working at The Mind Lab in Wellington in March 2015, and for around 18 months, I had the opportunity to work with some amazing schools and teachers as well as develop personally with my learning to become a Digital Tech specialist. Some of what I did is as follows:
Planning and delivering activities that allowed students from visiting schools to explore their ideas in aspects of DigiTech. Some of those activities included Robotics, 3D Design, Coding and Computational Thinking, Electronics, Science experiments and Animation.
Providing Teacher Professional Development workshops for practical activities as part of the Post Graduate Certificate in Applied Practice (Digital and Collaborative Learning). The workshops allowed teachers to be creative and to explore their ideas and share their knowledge as part of their studies. They too were experiencing using Robotics, 3D Design, Coding, Computational Thinking and Animation, in many cases for the first time.
Here is a taster of some of the STEAM activities that I have done at The Mind Lab
Set your timer… My fifteen minutes of fame starts here!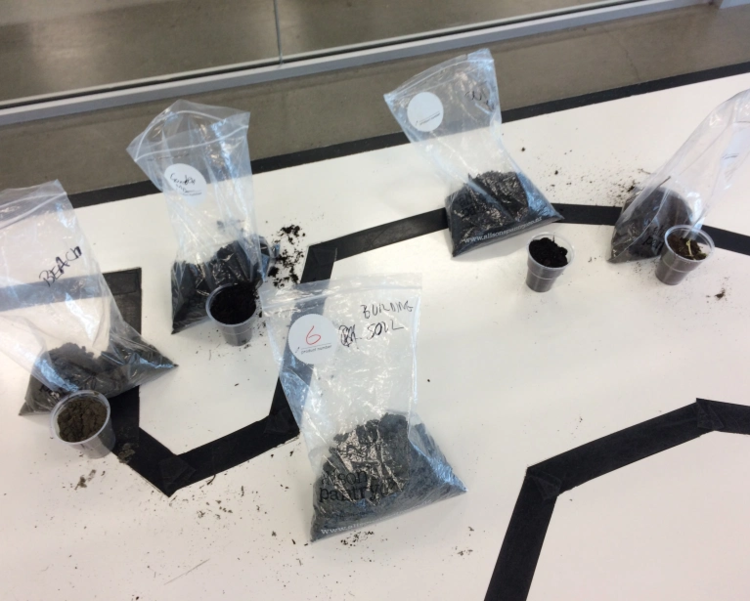 The kids of Hataitai School in Wellington had a fantastic day for looking at the properties of what's in the soil on the ground. We were analysing soil as part of their inquiry and this was inspired by the Science Week activities from NZAPSE. http://nzapse.nzase.org.nz/primary-science-week/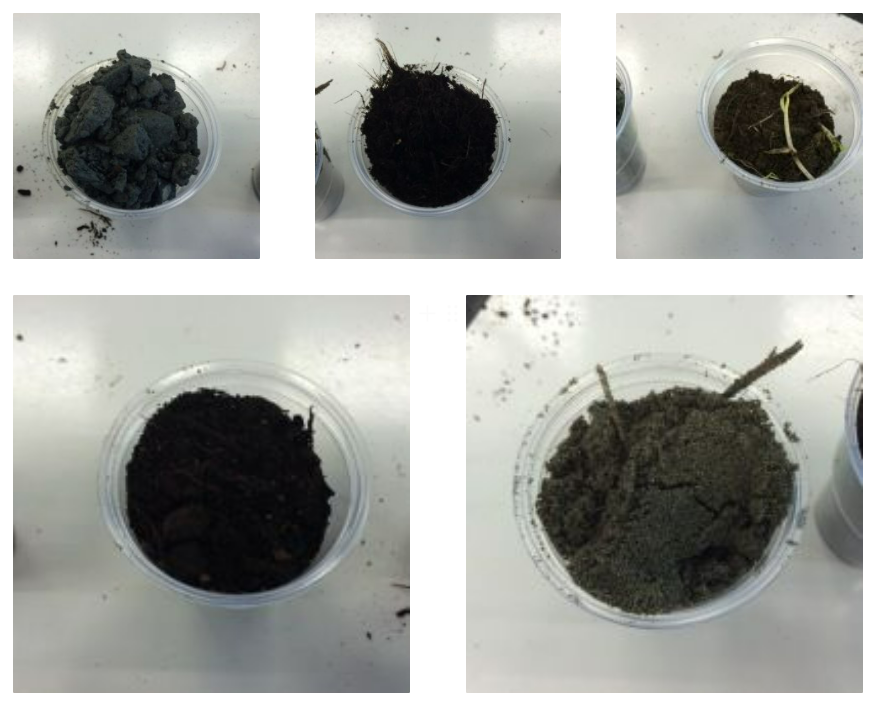 The students analysed five types of soil:
beach sand
clay
potting mix
top soil
peat (garden mix).
They come up with their own categories for the different properties:
coarseness
absorption
colour
nutrients etc.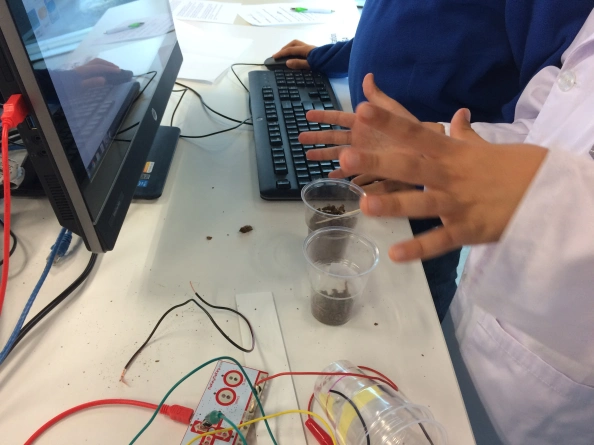 A Makey Makey moisture gauge was created to see how quickly each soil type can soak up a controlled level of water. The students used Scratch coding to create an alarm with a timer which will go off when the water reaches a predetermined level.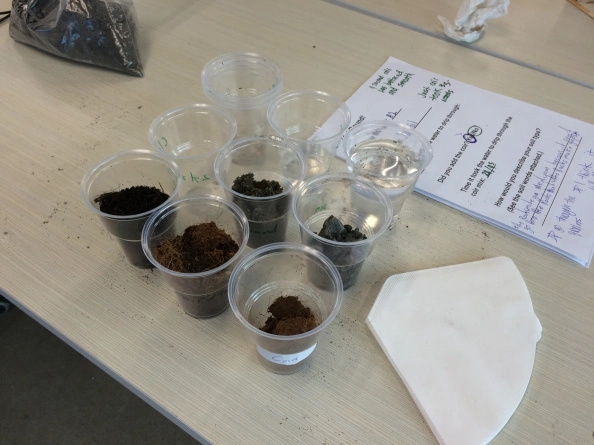 The students split into groups and then created a chart using data entered into Google Sheets. We started with a hypothesis, for example, which is the most porous soil type and therefore the best to hold water. Water was poured into each soil sample and timed.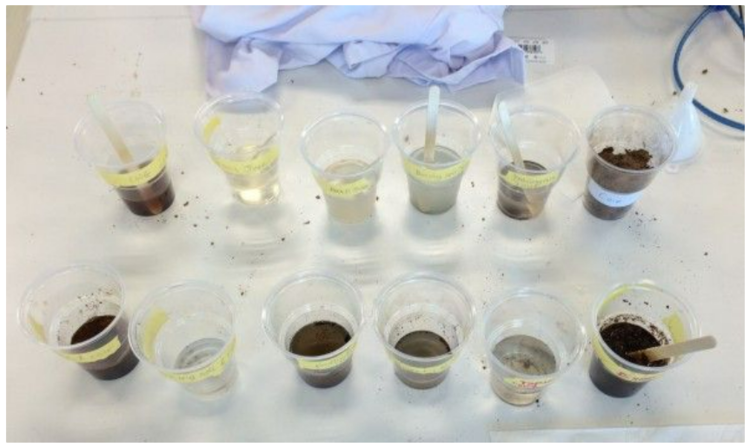 The same tests were carried out but this time, we used coir in each soil sample. Coir has excellent water retention properties and is mixed with poor soil to improve the condition.
All of the comprehensive data collected was useful for their inquiry and the students were able to continue with their analysis at school.
Make-Believe Habitat – June 2016
As part of their class project, some Year 5/6 students of Khandallah School, Wellington had an idea…
The Brief:
To make an interactive display with coding and electronics. To use copper wire and other things electronic to make an interactive panel – when a button is pressed, a light switches on or a sound or a display is activated. The students hoped to add value to a classroom project that's already underway.
The students were inspired by some of the displays they have seen at Te Papa – in particular those displays that, when a button is pushed, a recorded voice is heard through a disguised speaker and a LED light lights up – all to illustrate a particular facet of the display. They wanted to create a museum display.
This the habitat with its circuitry (buttons for LED lights).
For a science project, the students are building a habitat for a make-believe species. They have a large scale box, in which fallen branches are used to represent the workings of a real-life habitat. At this stage the kids imaginations are running wild – so the species has its own sofa and big screen TV!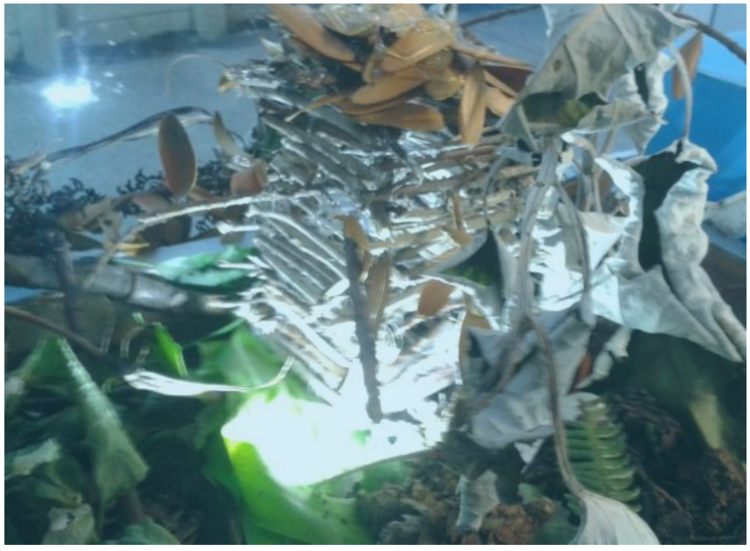 This shows a habitat LED light in action (lighting up a 'hut').
They have become very interested in circuits – particularly those created using paper/pencil circuits using a Makey Makey. They wanted to learn how to programme such a circuit – maybe using Scratch. Their interactive display could utilise the inbuilt speakers of a laptop or PC and have multiple programmable keys.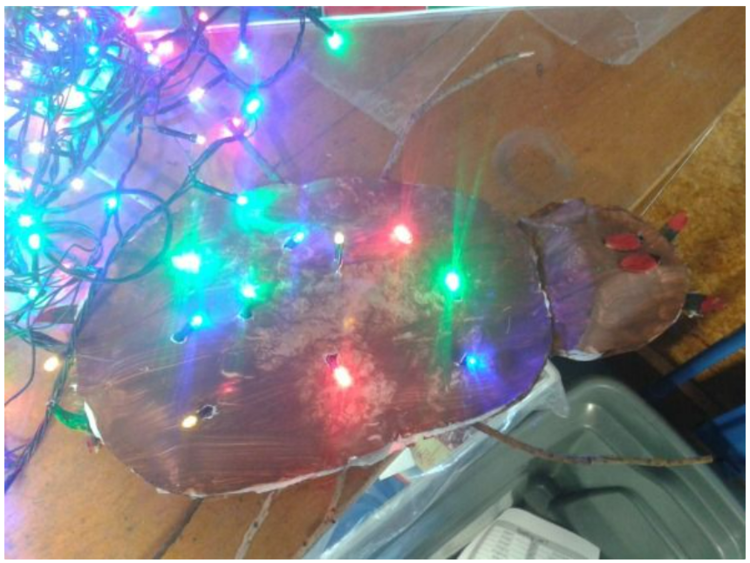 This pic shows a model of our bug, complete with rainbow lights (Christmas lights).
So, armed with pictures of their habitat, pre-recorded voice overs and their imagination, the kids came to The Mind Lab to develop their thinking and ideas. They developed their prototypes and the Scratch code that they then implemented back at school.